Trial Process Overview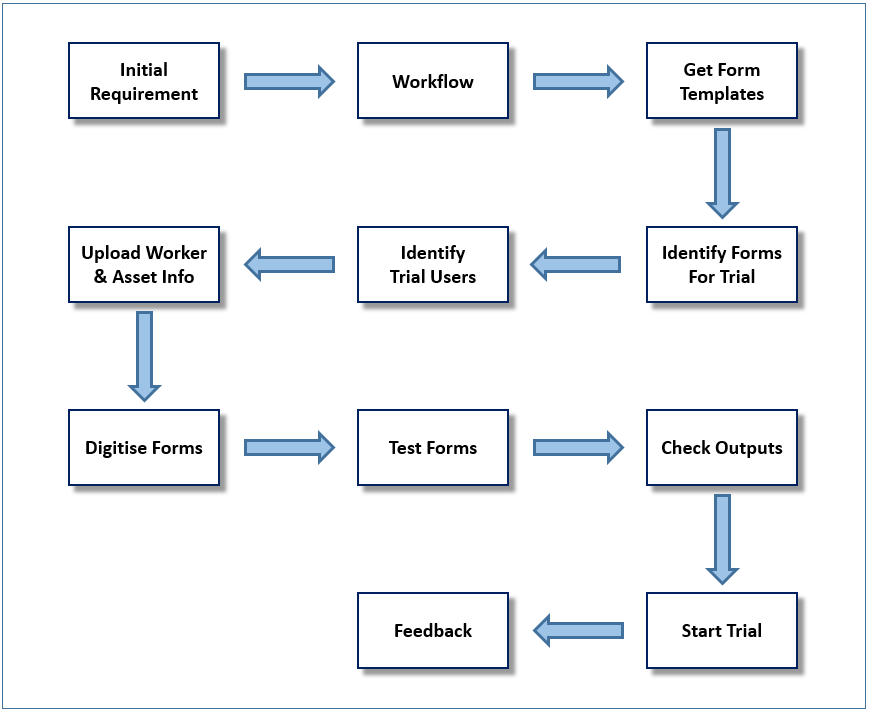 1.Initial REQUIREMENT Discussion with Client.
a.Identify work processes.
b.Engage people who are directly involved in trial (Safety personnel, project managers, etc)
c.Document the workflow according to the form types/processes.
d.Signature requirements
   i.The workflow will determine the order of signature for each submission. Everyone who is involved in the approval process has to sign the form digitally using their mobile device.
e.Any photo requirements
   i.Photos can be taken for recording the state of the job location at the point of submitting the digital form.
f.Output requirements
   i.This is to determine the final output of the digital form which may include photos that were submitted with the form and any other supporting information.
2.Obtain FORM TEMPLATES
The following are the typical set of forms that would be used in a safety management system.
a.Permit to Work
b.Toolbox Meeting
c.Accident Report
d.Incident Report
e.Non-Conformance Report
f.Inspection Checklist
g.Punch List
There will be many types of the same forms, for e.g. lifting permit, excavation permit, demolition permit, asset inspection, machinery inspection, etc. See here for the different forms available.
3.Identify FORMS for TRIAL
To ensure that various workflow and types of forms are tested during the trial, it is recommended to select the forms which can best represent the more complete workflow.
a.Forms may have to be modified or redesigned to suit a digital process
4.Obtain list of TRIAL USERS
These are the people who will be preparing and signing the form for the approval process. It can also include management personnel who need to monitor the process.
a.(Safety)Supervisor
b.Safety Officer
c.Safety/Construction/Project Manager
d.Project Director/General Manager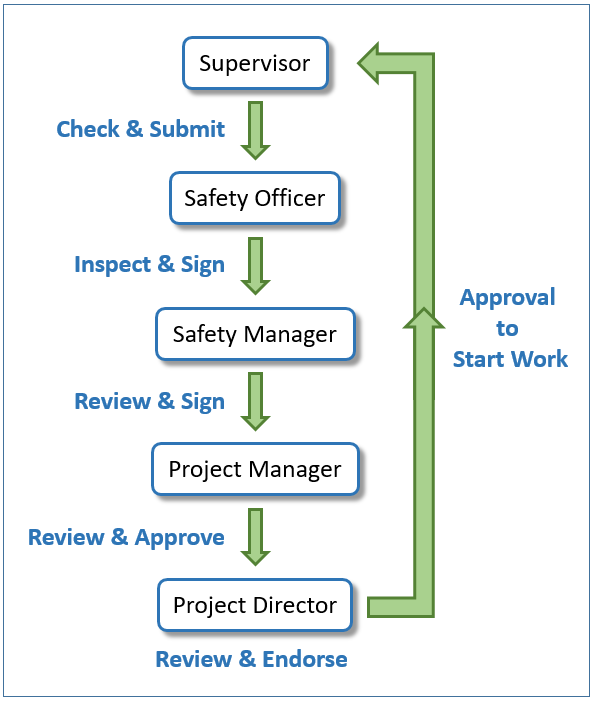 5.Obtain list for WORKERS and ASSETS
Some processes require the information of workers and/or assets. As such, this information has to be uploaded before the trial can begin.
Download Workers Registration Template.
Download Asset Registration Template.
6.Selected forms are DIGITISED and UPLOADED to CTMS.
Forms are digitised so that they will work well on mobile devices. They are also designed with the workflow in mind to make the submission and approval process easier.
7.Forms will first be TESTED INTERNALLY.
Digitised forms will undergo rigorous testing to ensure that they are properly converted and that they meet the workflow requirements.
8.OUTPUTS will be checked to MATCH requirements.
a.The digital outputs will be in PDF or Excel format which is editable.
9.Client can PROCEED with trial.
Once the internal testing is completed, the trial can start for the client.
10.Provide INSTRUCTIONS for trial users.
Instructions will be provided for the following areas. Usually the digitised process does not deviate much from the paper process.
a.Accessing the trial site.
b.How to create a submission.
c.How to follow up with submissions.
d.Differences with paper and digitised processes if any.
e.Feedback
11.Collect feedback from trial users. Follow up regularly with trial users.
During the trial period, further adjustments to the workflow may be required as the process may be different after digitisation. This would allow the remaining similar forms to be quickly digitised after the differences have been addressed when the client decides to adopt the system fully.
Sample Notification to Trial Users
Hi TRIAL USERS,
The trial is good to go now.
First of all, there are 4 roles for this trial:
– Site Supervisor (Subcon)/LOGIN:userid PWD: 123456
– Safety Supervisor (Subcon)/LOGIN:userid PWD: 123456
– WSHO (Company)/LOGIN:userid PWD:123456
– Project Manager(PM) (Company)/LOGIN:userid PWD:123456
For Subcon roles, please login at https://subcon_url.ctms.sg
For Maincon roles, please login at https://maincon_url.ctms.sg
You will be able to test out the following forms:
Permit to Work(PTW) for Hot Work – Created by Site Supervisor
Toolbox Meeting(TBM) – Created by Site Supervisor and Safety Supervisor
Safety Inspection(SI) Checklist for Lift Works – Created by WSHO
Workflow for the signing is as follow:
PTW – Supervisor>Safety Supervisor>PM>Site Supervisor
TBM – Safety Supervisor
Safety Inspection – WSHO>Site Supervisor
All submitted forms can be viewed by everyone for this trial.
If you have any questions or need any assistance, please let me know.
Please download the following file
CTMS Trial Setup Account Information