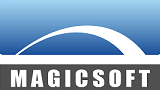 ---
MAGICSOFT EULA (End User License Agreement)
PLEASE READ THIS END-USER LICENSE AGREEMENT ("EULA") CAREFULLY.
BY INSTALLING, COPYING OR USING THE SOFTWARE THAT ACCOMPANIES THIS EULA (SOFTWARE), YOU AGREE TO BE BOUND BY THE TERMS OF THIS EULA. IF YOU DO NOT AGREE, DO NOT INSTALL, COPY, OR USE THE SOFTWARE. YOU MAY RETURN IT TO YOUR PLACE OF PURCHASE FOR A FULL REFUND IF APPLICABLE.
---
GENERAL
This End-User License Agreement ("EULA") is a legal agreement between you (either an individual or a single entity) and MAGICSOFT ASIA SYSTEMS PTE LTD (MAGICSOFT). This EULA governs the Software which includes computer software in object code form (including online and electronic documentation) and any associated media and printed materials. An amendment, addendum, or exhibits to this EULA may accompany the Software. This EULA applies to updates, supplements, add-on components, and Internet-based services components of the Software that MAGICSOFT may provide or make available to you unless MAGICSOFT provides other terms with the update, supplement, add-on component, and Internet-based services component. MAGICSOFT reserves the right to discontinue any Internet-based services provided to you or made available to you through the use of the Software. This EULA also governs any product support services relating to the Software except as may be included in another agreement between you and MAGICSOFT. The Software may contain one or both of the following:
– "Server Software" which provides services or functionalities on your server (your computer(s) capable of running the Server Software are referred to as "Servers"); and
– "Client Browser Software" which allows a single personal computer workstation, terminal, handled computer, pager, telephone, personal digital assistant, or other electronic mobile device ("Device") to access or use the Server Software.
GRANT OF LICENSE
MAGICSOFT grants you the following non-exclusive, non-transferable (unless as described under Section 13 "Software Transfer") rights provided that you comply with all terms and conditions of this EULA:
2.1 Server Software.  You may install and use only one copy of the Server Software on a single Server, even if multiple copies of the Server Software are included in the Software. Separate component parts of the Server Software may not be used on more than one Server. An additional license is required if you install another copy of the Server Software on the same Server (whether in a separate partition, use of server emulation software, or other) or to install or run a copy of the Server Software on a different Server (such as a Server employed for backup or fail-over support).
2.2 Client Browser Software. You may install and use the Client Browser Software on any Device solely to access or use the Server Software.
2.3 License Grant for Documentation.  The documentation that accompanies the Software is licensed for internal, non-commercial reference purposes only.
By accepting this Software EULA, you agree to exclude any type of use not expressly authorized, including behaviour of the Software, adaptation, creation of derivative programs, change or arrangement, in whole or in part, without prior written permission from MAGICSOFT. Any use other than that provided for under this EULA requires a specific license with an additional fee.
DESCRIPTION OF OTHER RIGHTS AND LIMITATIONS
3.1 Mandatory Activation.  THERE ARE TECHNOLOGICAL MEASURES IN THIS SOFTWARE THAT ARE DESIGNED TO PREVENT UNLICENSED USE OF THE SOFTWARE.   You may not be able to exercise your rights to the Software under this EULA after a finite number of product launches unless you activate your copy of the Software in the manner described during the launch sequence.  You may also need to reactivate the Software if you modify your computer hardware or alter the Software.  MAGICSOFT will use those measures to confirm you have a legally licensed copy of the Software.  If you are not using a licensed copy of the Software, you are not allowed to install the Software or future Software updates.  MAGICSOFT will not collect any personally identifiable information from your Server or Device during this process.
3.2 Internet-Based Services.  You may not use any MAGICSOFT Internet-based services associated with the Software in any manner that could damage, disable, overburden, or impair such services or interfere with any other party's use and enjoyment of them. You may not attempt to gain unauthorized access to any service, account, computer systems or networks associated with the Internet-based services.
OWNERSHIP AND RESERVATION OF RIGHTS
MAGICSOFT reserves all rights not expressly granted to you in this EULA.  The Software is protected by copyright and other intellectual property laws and treaties. MAGICSOFT or its suppliers own the title, copyright, and other intellectual property rights in the Software.  The Software is licensed, not sold.  This EULA does not grant you any rights to trademarks, service marks or logos of MAGICSOFT.
LIMITATIONS ON REVERSE ENGINEERING, DECOMPILATION AND DISASSEMBLY
You may not reverse engineer, decompile, or disassemble the Software, except and only to the extent that such activity is expressly permitted by applicable law notwithstanding this limitation.
NO RENTAL/COMMERCIAL HOSTING
You may not rent, lease, lend or provide commercial hosting services with the Software by uploading or distributing it, in any form or by any means, including the Internet.
CONSENT TO USE OF DATA
You agree that MAGICSOFT and its affiliates may collect and use technical information gathered as part of the product support services provided to you, if any, related to the Software.  MAGICSOFT may use this information solely to improve MAGICSOFT products or to provide customized services or technologies to you and will not disclose this information in a form that personally identifies you.
LINKS TO THIRD-PARTY SITES
MAGICSOFT is not responsible for the contents of any third-party sites or services, any links contained in third-party sites or services, or any changes or updates to third-party sites or services.  MAGICSOFT is providing these links and access to third-party sites and services to you only as a convenience, and the inclusion of any link or access does not imply an endorsement by MAGICSOFT of the third-party site or service.
UPGRADES
To use Software identified as an upgrade, you must first be licensed for the software identified by MAGICSOFT as eligible for the upgrade. After installing the upgrade, you may no longer use the original software that formed the basis for your upgrade eligibility, except as part of the upgraded software.
10. NOT FOR RESALE SOFTWARE
Software identified as "Not for Resale" or "NFR," may not be sold or otherwise transferred for value, or used for any purpose other than demonstration, test or evaluation.
SEPARATION OF COMPONENTS
The Software is licensed as a single product. Its component parts may not be separated for use on more than one Server or one Device.
SOFTWARE TRANSFER
– Internal: You may transfer your copy of the Software to a different Server or Device.  After the transfer, you must completely remove the Software from the former Server or Device.
– Transfer to Third Party:  If you are the person who initially licensed the Software, you may make a one-time permanent transfer of this EULA, Software and Certificate of Authenticity (if applicable) to another end-user, provided that you do not retain any copies of the Software.  This transfer must include all of the Software (including all component parts, the media and printed materials, any upgrades, this EULA, and, if applicable, the Certificate of Authenticity).  The transfer may not be an indirect transfer, such as a consignment.  Prior to the transfer, the end-user receiving the Software must agree to all the EULA terms.
LIMITED WARRANTY FOR SOFTWARE
MAGICSOFT warrants that the Software will perform substantially in accordance with the accompanying materials for a period of ninety (90) days from the date of receipt.
If an implied warranty or condition is created by your state/jurisdiction and federal or state/provincial law prohibits disclaimer of it, you also have an implied warranty or condition, BUT ONLY AS TO DEFECTS DISCOVERED DURING THE PERIOD OF THIS LIMITED WARRANTY (NINETY DAYS). AS TO ANY DEFECTS DISCOVERED AFTER THE NINETY DAY PERIOD, THERE IS NO WARRANTY OR CONDITION OF ANY KIND.  Some states/jurisdictions do not allow limitations on how long an implied warranty or condition lasts, so the above limitation may not apply to you.
Any supplements or updates to the Software, including without limitation, any (if any) service packs or hotfixes provided to you after the expiration of the ninety-day Limited Warranty period are not covered by any warranty or condition, express, implied or statutory.
LIMITATION ON REMEDIES; NO CONSEQUENTIAL OR OTHER DAMAGES. Your exclusive remedy for any breach of this Limited Warranty is as set forth below.  Except for any refund elected by MAGICSOFT, YOU ARE NOT ENTITLED TO ANY DAMAGES, INCLUDING BUT NOT LIMITED TO CONSEQUENTIAL DAMAGES, if the Software does not meet MAGICSOFT's Limited Warranty, and, to the maximum extent allowed by applicable law, even if any remedy fails of its essential purpose.  The terms of Section 16 ("Exclusion of Incidental, Consequential and Certain Other Damages") are also incorporated into this Limited Warranty. Some states/jurisdictions do not allow the exclusion or limitation of incidental or consequential damages, so the above limitation or exclusion may not apply to you.  This Limited Warranty gives you specific legal rights.  You may have other rights which vary from state/jurisdiction to state/jurisdiction. YOUR EXCLUSIVE REMEDY.  MAGICSOFT's and its suppliers' entire liability and your exclusive remedy for any breach of this Limited Warranty or for any other breach of this EULA or for any other liability relating to the Software shall be, at MAGICSOFT's option from time to time exercised subject to applicable law, (a) return of the amount paid (if any) for the Software, or (b) repair or replacement of the Software, that does not meet this Limited Warranty and that is returned to MAGICSOFT with a copy of your receipt. You will receive the remedy elected by MAGICSOFT without charge, except that you are responsible for any expenses you may incur (e.g. cost of shipping the Software to MAGICSOFT).  This Limited Warranty is void if failure of the Software has resulted from accident, abuse, misapplication, abnormal use or a virus. Any replacement Software will be warranted for the remainder of the original warranty period or thirty (30) days, whichever is longer. To exercise your remedy, contact: MAGICSOFT, Attn. MAGICSOFT Customer Support or the MAGICSOFT subsidiary serving your country.
DISCLAIMER OF WARRANTIES
The Limited Warranty that appears above is the only express warranty made to you and is provided in lieu of any other express warranties or similar obligations (if any) created by any advertising, documentation, packaging, or other communications.  Except for the Limited Warranty and to the maximum extent permitted by applicable law, MAGICSOFT and its suppliers provide the Software and support services (if any) AS IS AND WITH ALL FAULTS, and hereby disclaim all other warranties and conditions, whether express, implied or statutory, including, but not limited to, any (if any) implied warranties, duties or conditions of merchantability, of fitness for a particular purpose, of reliability or availability, of accuracy or completeness of responses, of results, of workmanlike effort, of lack of viruses, and of lack of negligence, all with regard to the Software, and the provision of or failure to provide support or other services, information, software, and related content through the Software or otherwise arising out of the use of the Software.  ALSO, THERE IS NO WARRANTY OR CONDITION OF TITLE, QUIET ENJOYMENT, QUIET POSSESSION, CORRESPONDENCE TO DESCRIPTION OR NON-INFRINGEMENT WITH REGARD TO THE SOFTWARE.
DAMAGES
EXCLUSION OF INCIDENTAL, CONSEQUENTIAL AND CERTAIN OTHER DAMAGES.  TO THE MAXIMUM EXTENT PERMITTED BY APPLICABLE LAW, IN NO EVENT SHALL MAGICSOFT OR ITS SUPPLIERS BE LIABLE FOR ANY SPECIAL, INCIDENTAL, PUNITIVE, INDIRECT, OR CONSEQUENTIAL DAMAGES WHATSOEVER (INCLUDING, BUT NOT LIMITED TO, DAMAGES FOR LOSS OF PROFITS OR CONFIDENTIAL OR OTHER INFORMATION, FOR BUSINESS INTERRUPTION, FOR PERSONAL INJURY, FOR LOSS OF PRIVACY, FOR FAILURE TO MEET ANY DUTY INCLUDING OF GOOD FAITH OR OF REASONABLE CARE, FOR NEGLIGENCE, AND FOR ANY OTHER PECUNIARY OR OTHER LOSS WHATSOEVER) ARISING OUT OF OR IN ANY WAY RELATED TO THE USE OF OR INABILITY TO USE THE SOFTWARE, THE PROVISION OF OR FAILURE TO PROVIDE SUPPORT OR OTHER SERVICES, INFORMATON, SOFTWARE, AND RELATED CONTENT THROUGH THE SOFTWARE OR OTHERWISE ARISING OUT OF THE USE OF THE SOFTWARE, OR OTHERWISE UNDER OR IN CONNECTION WITH ANY PROVISION OF THIS EULA, EVEN IN THE EVENT OF THE FAULT, TORT (INCLUDING NEGLIGENCE), MISREPRESENTATION, STRICT LIABILITY, BREACH OF CONTRACT OR BREACH OF WARRANTY OF MAGICSOFT OR ANY SUPPLIER, AND EVEN IF MAGICSOFT OR ANY SUPPLIER HAS BEEN ADVISED OF THE POSSIBILITY OF SUCH DAMAGES.
LIMITATION OF LIABILITY AND REMEDIES
Notwithstanding any damages that you might incur for any reason whatsoever (including, without limitation, all damages referenced herein and all direct or general damages in contract or anything else), the entire liability of MAGICSOFT and any of its suppliers under any provision of this EULA and your exclusive remedy hereunder (except for any remedy of repair or replacement elected by MAGICSOFT with respect to any breach of the Limited Warranty) shall be limited to the greater of the actual damages you incur in reasonable reliance on the Software up to the amount actually paid by you for the Software or 5.00 USD or US $5.00.  The foregoing limitations, exclusions and disclaimers (including Sections 14, 15 and 16) shall apply to the maximum extent permitted by applicable law, even if any remedy fails its essential purpose.
TERMINATION
This EULA remains in force for the whole legal duration of the Software copyright. Without prejudice to any other rights, MAGICSOFT may terminate this EULA if you fail to comply with the terms and conditions of this EULA. In such event, MAGICSOFT shall keep the sums paid by you and you must (i) immediately cease using the Software (ii) affect its de-installation and return to MAGICSOFT within a period of eight (8) days after notification of termination, and (iii) destroy all copies of the Software and all of its component parts.
18. CONFIDENTIALITY
You agree not to disclose any documents or information communicated by MAGICSOFT in the course of the performance of this EULA and you also agree to have these measures observed by your employees.
APPLICABLE LAW – DISPUTES
If you acquired this Software in Singapore, then the Singapore law applies. If you acquired the Software in any other country, then local laws may apply.
FORCE MAJEURE
MAGICSOFT shall not be held liable in case of impossibility or delay in performance of the EULA due to labor disputes, force majeure or any other event beyond its control.
ENTIRE AGREEMENT – SEVERABILITY
This EULA (including any addendum, amendment or exhibits to this EULA which is included with the Software) is the entire agreement between you and MAGICSOFT relating to the Software and the support services (if any) and they supersede all prior or contemporaneous oral or written communications, proposals and representations with respect to the Software or any other subject matter covered by this EULA.  To the extent, the terms of any MAGICSOFT policies or programs for support services conflict with the terms of this EULA, the terms of this EULA shall control.  If any provision of this EULA is held to be void, invalid, unenforceable or illegal, the other provisions shall continue in full force and effect.