Industry
The construction industry faces challenges such as low productivity due to a large number of manual and paper-based business processes. It is a complex industry, requiring a large amount of interaction between different parties working on a project. In addition, there are numerous compliance and regulatory requirements which can be time-consuming and tedious to complete without systems and processes in place to automate the work.
The proposed CTMS will stream line the business processes, as well as making use of the latest technologies to ensure a much flexible, scalable and secured system. It will therefore, centralize all project data, normalize existing data structure and fine tune current business processes to make sure the new system fulfill the functional needs.
Free Trial – fill in the form here and we will email you the link to download a trial version of CTMS now. Then, explore all the ways CTMS can simplify the work you do every day − free for 30 days.
Please kindly download the PPT file here.
Some of our existing customers.
CTMS Overview
CTMS is a web-based solution designed by Magicsoft Asia Systems aimed at increasing efficiency for custom builders and remodelers. CTMS can be accessed from a login form on the contractor's website. From here, team members, subs and clients can access their own secure portals to address tasks unique to their role – tracking changed orders and project budget, update online schedules, attendance tracking and sharing of photos in real time. Because it's web-based, CTMS can be used on both Mac and Windows computers. No software or servers have to be installed and maintained on location. Additionally, the program can be accessed from any location, with any type of mobile device, including iPhones, iPads, and Android phones. As CTMS is offering software as a service (SaaS), it is priced at a monthly subscription fee instead of a one-time payment.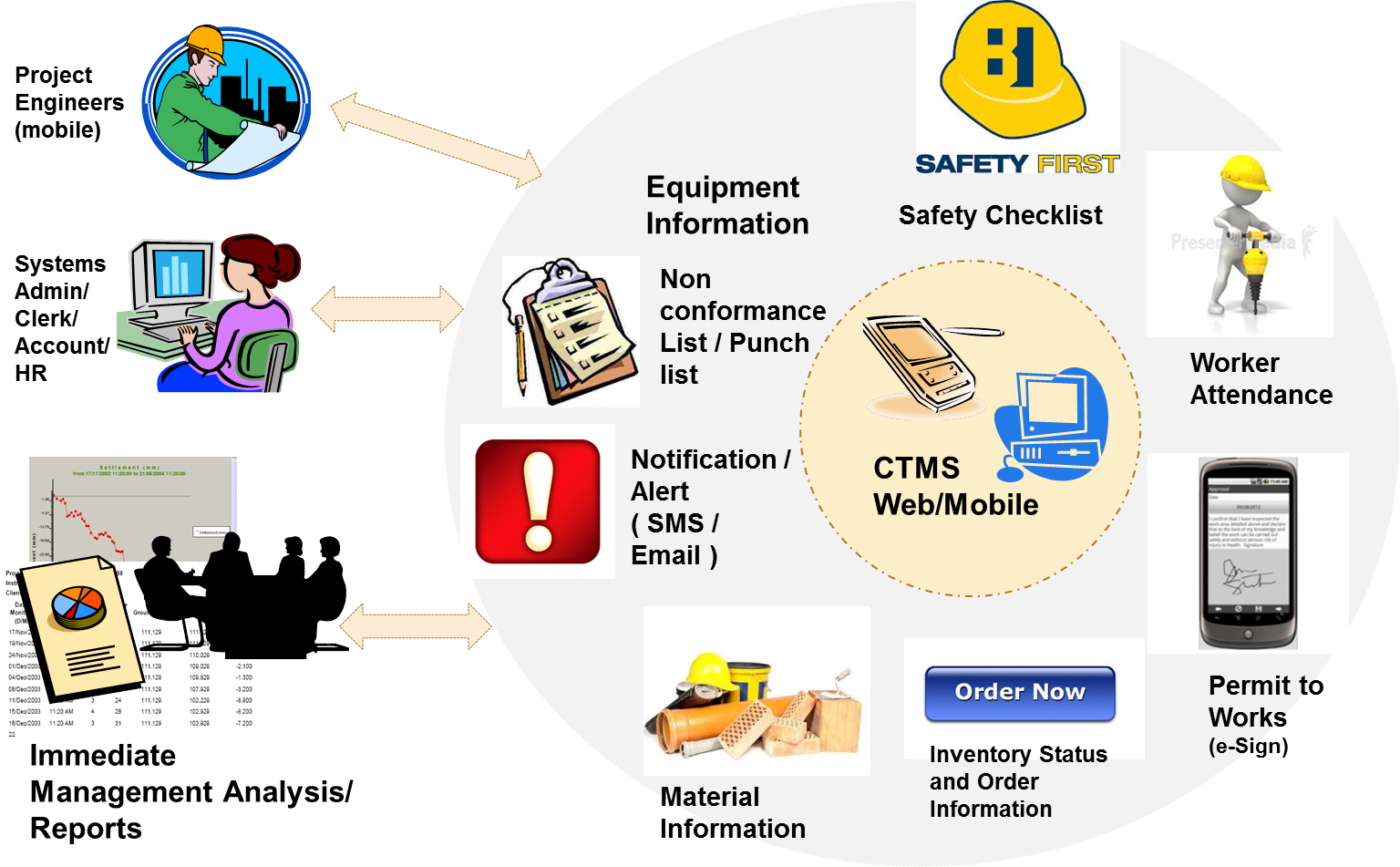 Electronic Permit to Work System with Real-time Monitoring
The PTW System is an integral part of a safety and health management system. It is a formal authorisation system used in the management of work activities to ensure safe execution of work onsite, including non-routine work. It is widely used in various industries including Construction, Oil & Gas, Logistics, Marine, etc.
The Workplace Safety and Health (WSH) Act defines the responsibilities for each stakeholder group, such as employers, occupiers, employees and self-employed, who have it within their control to ensure safety at the workplace. It imposes higher penalties for non-compliance and risky behaviour. When an accident occurs, it can result in serious injuries or even death. As a consequence, the PTW is a very crucial process used in investigations. Any breach in administering it can lead to heavy fines and jail terms such as in this case.
Although PTW systems are commonplace, they are mainly manual paperwork and even if digitised, do not take into consideration the many various factors around the job site that can greatly impact the outcome of any assessed risk. Hence, Magicsoft Asia has decided to enhance this requirement with the use of Industry 4.0 technologies like video analytics, IoT sensors and artificial intelligence. This will allow stakeholders to continuously monitor all types of work to assist safety personnel in enforcing WSH practices.
Through the use of timely alerts, breaches in environmental or safety parameters such as excessive noise or the removal of helmets when work is in progress, allow supervisors to act quickly before dire consequences can occur. This is in addition to improving existing risk controls with the use of smart tags for tracking people and assets. And with further enhancements through the use of artificial intelligence via Google's Tensorflow 2.0, we aim to develop useful machine learning models in risk assessment for the construction industry.